CroatiaFest
2020 Virtual Festival
CroatiaFest 2020 will be coming to you virtually through Facebook Live. The CroatiaFest Planning Committee has put together a variety of interesting and entertaining video presentations which will be presented the weekend of October 2nd, 3rd and 4th. You will be able to enjoy:
· Historical documentaries
· Cooking demonstrations
· Music performances
· Fashion show of antique Croatian costumes
· Virtual wine tasting,
· Interviews about Croatian citizenship
· Interviews about property ownership
· Interaction Croatian themed book club
· Croatian Trunk Show
· Genealogy
· Croatian Mass
· And much more.
A schedule of programing will be posted in the coming weeks.
Searching For Your Croatian Roots
With Robert Jerin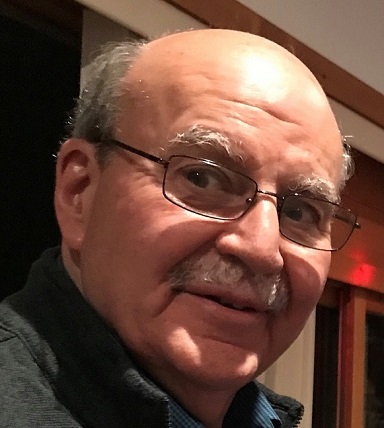 We are pleased to announce an addition to our Virtual CroatiaFest Speaker series – "Searching for your Croatian roots" with Robert Jerin. Please plan on joining us Saturday September 26th at 12PM Pacific.

Robert has been researching Croatian family histories since 1986 and for the past 16 years he has been conducting Croatian genealogy workshops across the United States and Croatia. As a result of this research, Robert has self-published the handbook, "Searching for Your Croatian Roots" which includes the only known database of Croatian given names and their English equivalents.

Since 2005 Robert and his wife Sue have been leading heritage and genealogy tours to Croatia and have helped connect dozens of families around the world to their ancestral roots. Robert also hosts the very popular "Croatian Heritage and Genealogy" Facebook group which has over 20,000 members. Robert enjoys seeing people learn about their roots and the history of Croatia. "The most interesting is when people, thanks to the group, find family members," Robert says. "Sometimes people who are members of the group find that they are cousins." Robert's presentation will focus on how to determine your ancestor's place of origin and how and where to locate records of your ancestors. We are honored to have such an expert genealogist as part of our Virtual CroatiaFest Speaker series.

If you would like to attend, please RSVP via email to: enews@croatiafest.org Those reserving a spot will be emailed a Zoom link Friday, September 25th for the event.
CROATIAFEST BOOK CLUB
With Professor Cody McClain Brown & Rosemary Gard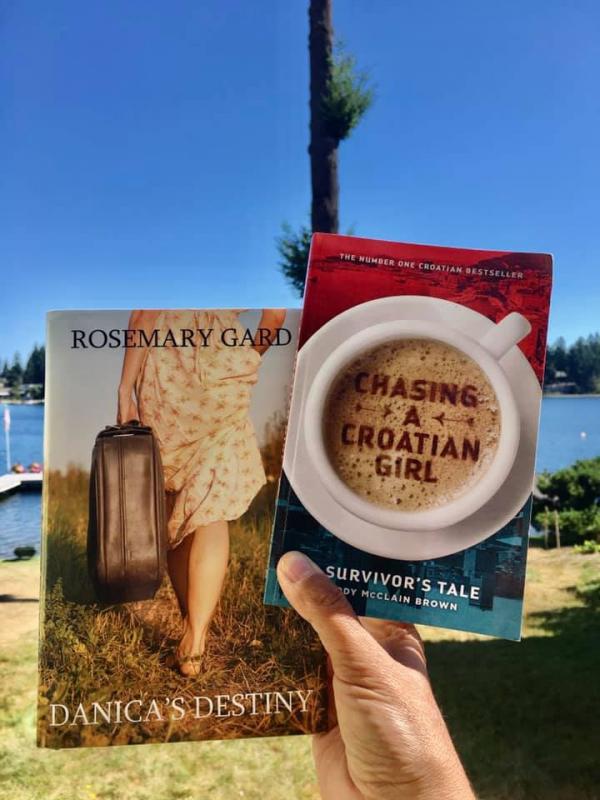 "CHASING A CROATIAN GIRL"
Saturday, September 19th, 10am join us for our virtual CroatiaFest Book Club! For this first of two book clubs for 2020, we will be reading Professor Cody McClain Brown's "Chasing A Croatian Girl." This wonderful book is the story of Cody falling in love with a Croatian girl – eventually marrying her and moving to Croatia. He shares through the eyes of a foreigner, delightful stories about his new world: propuh, coffee, Croatian mother in laws, Croatian baby raising advice, neighbors and just overall life - sharing with his readers a hilarious first-hand account of the culture and heritage we all know so well!
Cody is currently a political science professor at the University of Zagreb, in Zagreb, Croatia where he lives with his wife and daughter. He has written two books about his Croatian life, wrote blogs for HRT and currently has his Propuh Podcast, available on his website: www.codymcclainbrown.com
The book is currently available in the US at amazon.com or in all major bookstores in Croatia.
Cody will be joining us live from Zagreb, taking questions from you, the audience and sharing his experiences with host Joanne Abdo. RSVP via email to: lemieuxkf@gmail.com. For those who have reserved space, a Zoom meeting link will be emailed out Friday, September 18th to the email you provide. If you are unable to join us, fear not! This episode will be recorded and shown this year at our Virtual CroatiaFest 2020, October 4th.
"DANICA'S DESTINY"
Our second in the series of Virtual CroatiaFest Book Club events, join us Saturday, September 26th, 10:00am as we discuss with author Rosemary Babich Gard her popular book "Danica's Destiny." Many of you have had the chance to meet Rosemary at CroatiaFest and perhaps even bought one of her books!
"Danica's Destiny" follows the life of 16 year old Danica in 1915 Texas, struggling to find her American self, while managing the expectations at home of her Croatian immigrant parents. There are some interesting local connections woven into the story, so be sure to pick up the book and join us with questions for the author! You can order signed books by credit card at rosemarygard.com. Join host John Morovich in conversation with Rosemary.
Reserve your spot by sending email to: lemieuxkf@gmail.com. You will receive a Zoom meeting link Friday, September 25th via email. If you are unable to join us, nema problema! The conversation will be recorded and replayed during Virtual CroatiaFest 2020, October 4th.
CROATIAN PROPERTY, LAND USE & ESTATE LAW
Attorneys Don Markusić & Monika Maretić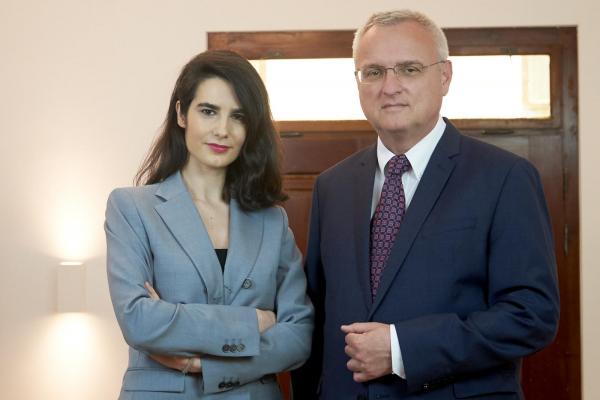 Croatian attorneys Don Markusić and Monika Maretić of Zagreb will be connecting with us live via Zoom on Sunday, September 13th at 12:00 PM PDT, to take your questions regarding Croatian property, land use and estate law. Don and Monika are prepared to take your questions on the process, paperwork, titles and deeds, the challenges of language barriers, how to get started or manage the process if you are in the middle of one. They will also advise on the realities of timelines and obstacles. Don and Monika will be taking your questions live from Zagreb. To reserve your space, please RSVP via email to: lemieuxkf@gmail.com. For those who have reserved space, a Zoom meeting link will be emailed out Saturday, September 12th to the email you provide. If you are unable to join us, fear not! This episode will be recorded and shown this year at our Virtual CroatiaFest 2020.
VIRTUAL WINE TASTING
Ancestry Cellars with Jason Morin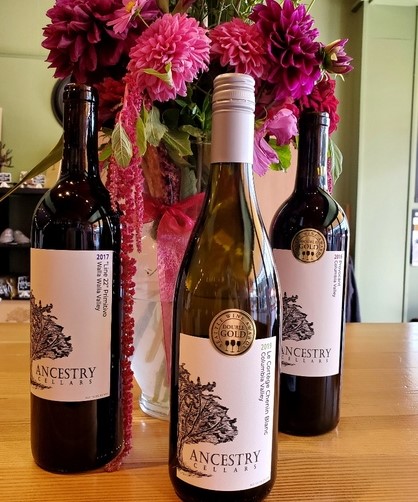 What would CroatiaFest be without VINO!? Join Croatian-American wine maker Jason Morin, owner of Ancestry Cellars for a virtual wine tasting 12pm Pacific Time, Sunday, September 27th. Jason grew up in Gig Harbor, working alongside his grandparents as a young boy, making wine in their basement. Jason's family is from Susak an island in Northern Croatia and Split. For those of you who have had the chance to visit our CroatiaFest wine cellars, you already know what a tremendous vintner Jason is and what quality wines Ancestry Cellars produce! This is your chance to try three lovely (handpicked by Jason for our event) wines, tasting from the comfort of your own home (dust off your CroatiaFest wine glass!), while Jason shares about each of them, taking questions and sharing pairing recommendations. Ancestry Cellars' CF tasting pack includes their 2019 Le Cortege Chenin Blanc, 2017 "Line 22" Primativo and 2016 Provocant red blend for $79.00 with a flat $10 shipping. Click the link below to order your tasting pack (BE SURE TO ORDER BEFORE TUESDAY, SEPTEMBER 22 IN ORDER TO ASSURE YOU HAVE YOUR WINE IN TIME!) Additional wines can be ordered with a generous discount code: CF2020. For those who live outside of Washington State, we recommend you order earlier to assure adequate delivery time. Email lemieuxkf@gmail.com to reserve your Zoom tasting seat and get ready for a wonderful afternoon of vino and friends!
To order the special wine tasting package: https://vinoshipper.com/shop/ancestry_cellars
Croatian Citizenship
With Nathalia Močivuna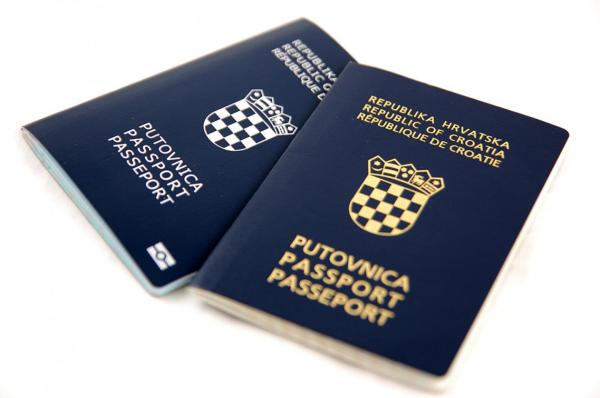 Join us Sunday, September 20 at 12PM (Pacific) for the second in our series a virtual lecture series: Croatian Citizenship with Nathalia Močivuna from Salona Consulting (https://salonaconsulting.com/).
There are currently more than 4 million people of Croatian ancestry who may be eligible for Croatian citizenship. Due to the intricate history of Croatia, many descendants don't realize they are eligible to be Croatian citizens. Many descendants also don't know the Croatian language which can make it difficult to be aware of all the requirements for claiming the Croatian citizenship for themselves and for their families.
Realizing that many Croatian descendants may struggle to find the correct information and assistance to claim their Croatian citizenship Nathalia started Salona Consulting in 2016 with a mission to assist members of the Croatian Diaspora to rediscover their Croatian roots and claim citizenship the same way she did. Nathalia has so far assisted members of the Croatian Diaspora from South Africa, Canada, Argentina, Brazil, and the United States claim their Croatian citizenship by descent.
Nathalia will be joining us live from Lucerne - Switzerland Lucern Switzerland, taking questions from you and sharing her experiences assisting those of Croatian ancestry with obtaining citizenship. If you would like to attend, please RSVP via email to: enews@croatiafest.org.
Those reserving a spot will be emailed a Zoom link Saturday, September 19th for the event.
Historic Roslyn Cemeteries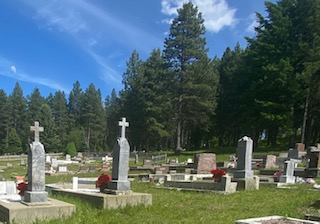 Nestled in the wooded Roslyn hillside, Roslyn Cemetery is perched 2,200 feet above sea level on the Cascade Mountain's eastern slope. Included in the National Historic Register, the cemetery reflects Roslyn's coal mining roots, rich cultural heritage and pioneering spirit. Nearly 5,000 graves marking young and old speak to the endurance, heroisms and hardships of Roslyn's early inhabitants.
The Roslyn Cemetery is actually twenty-six separate, but adjacent cemeteries clustered together on fifteen wooded hilly acres. In 1887, one year after Roslyn's founding, the town's fraternal, ethnic and civil groups established the cemetery with land donated or purchased from the Northern Pacific Railroad. All ethnic groups who labored in the area's perilous coal mines have their own sections. Of the twenty-four nationalities represented, the Croatian section is by far the largest.
A video with an aerial view of the cemetery will feature interviews with Croatians still living in the Roslyn area, whose relatives worked in the mines, will be narrated by Beverly Read.
Subscribe to CroatiaFest eNews
Fields marked with an asterisk (*) are required
Festival Schedule
Saturday, September 19, 2020
10:00 AM
Virtual Book Club
---
Sunday, September 20, 2020
12:00 PM
Croatian Citizenship
---
Saturday, September 26, 2020
10:00 AM
Virtual Book Club
---
12:00 PM
Searching For Your Croatian Roots
---
Sunday, September 27, 2020
12:00 PM
WINE TASTING
---
Sunday, October 4, 2020
ALL DAY
Breskvice
Early Croatian Immigrant Families of Old Town Tacoma
History of Roslyn Cemeteries
Hrstule