50TH ANNIVERSARY
KAVANA MAY 6, 2023
Croatian Dinner, Music and Dancing!
Exciting Auction and Raffle Prizes to Benefit Seattle Junior Tamburitzans!
4:30 PM - Doors Open
5:30 PM - Croatian Dinner
7:00 PM - SJT Peformance with TO Kisobran
9:00 PM - Dancing with Sinovi
Adults $40 Youth 5-17 $20 Kids 5 and under Free
Please purchase advance tickets by April 26th . Send checks made payable to Seattle Jr Tamburitzans, P. O. Box 77261, Seattle, WA 98177 or purchase on line at www.seattlejuniortammies,org.
DAFFODIL DINNER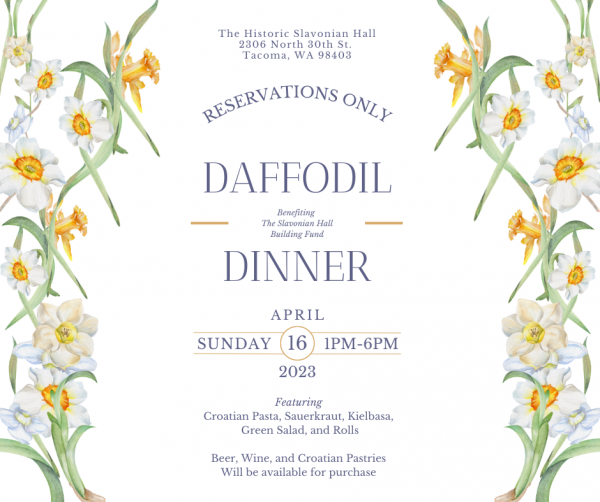 Benefiting Historic Slavonian Hall
Join us for a lovely afternoon at the Historic Slavonian Hall! On April 16th, plan your day around SABS and stop by for lunch, an afternoon snack, or dinner. We will be serving the traditional menu of pasta, sauerkraut, kielbasa, salad, and roll. There will be pastries, merchandise, and a cash bar with beer and wine to purchase throughout the day at the Hall. You can dine in the sunrise room or take your meal with you.
To help the kitchen crew plan for everyone, please make your reservation by April 1st. Click this link: https://slavhall.square.site to pay by credit card and view available reservation times. Ages 13+ $25. Ages 5-12 $15. Under 5 FREE. Event takes place from 1 p.m. - 6 p.m.
"FROM GORSKI KOTAR TO THE CASCADES"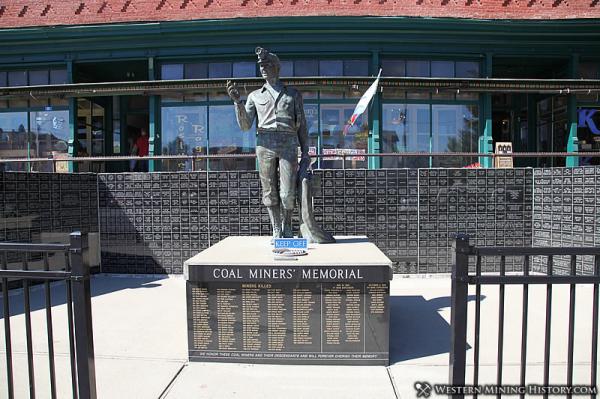 A video tour of Roslyn, Ronald, CleElum
Sunday, February 26th at 6:00 PM on the Facebook platform, CroatiaFest will present "FROM GORSKI KOTAR TO THE CASCADES" a video tour of the towns of Roslyn, Ronald and CleElum. Over 100 years ago, recruiters visited Gorski Kotar (among many other places) to find men to work in the active coal mines of the Cascade mountains, and these men eventually established families, many of whom still live in the area. The video will feature interviews with current residents and descendants of these hard-working people.
Mark your calendars: Sunday, February 26th, at 6:00 PM ,CroatiaFest Facebook Page.
FEŠTA TRI KRALJA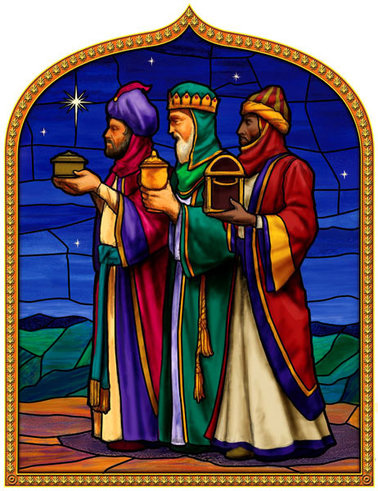 Annual Croatian Celebration in Honor of the Feast of the Three Kings.
SUNDAY, JANUARY 8, 2023
Holy Rosary Catholic Church
4139 – 42nd Ave SW
Seattle, WA 98116
TAMBURTIZA MASS at 10:30 AM
Proceeds from second collection to benefit St. Theresa's Orphanage in Zagreb, Croatia
Please make checks payable to CFU Lodge 439
CROATIAN PASTA LUNCH FOLLOWING MASS
In Lanigan Center
$20 Adults $10 Children under 10 years
Tables of 10 reserved seating $200
PRE-PAID RESERVATIONS : CFU Lodge 439
c/o Cathryn Morovich
2130 – 48th SW
Seattle, WA 98116
Please make checks payable to CFU Lodge 439
FOR MORE INFORMATION PLEASE CALL or EMAIL
Cathryn Morovich 206-937-8960 email: mrsgoldjangles@hotmail.com
Mission
The mission of CroatiaFest is to promote and preserve Croatian culture and to educate future generations of Croatian Americans and the general public with the richness and beauty of Croatian Culture and Croatian American contributions to the building of the United States of America. CroatiaFest is a federally approved non-profit 501(c)(3) organization.
CroatiaFest is part of the Seattle Center's Festal Series of ethnic festivals. Although the theme of the festival is specific to the country of Croatia, her people and history, the festival is ethnically diverse with performers and attendees of many nationalities and age groups. The festival is presented annually in October and is organized by a committee of volunteers with additional groups of community representatives and volunteer workers.