2017 Željko Stipetić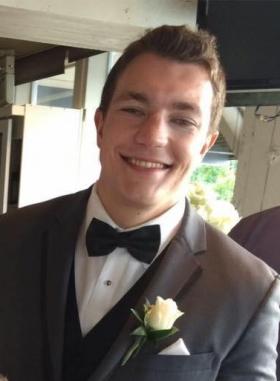 Željko Stipetić is a 24 year old graduate from Western Washington University. He earned a double major in Business Finance and International Business. Recently he started working for Wyndham, a hotel and travel company. He's had big ambitions to become a professional boxer one day, although he hasn't fought in a couple of years. Right now he is getting his priorities together and focusing on work and his career, however he hopes to fight again one day....
2017: Margo Cochran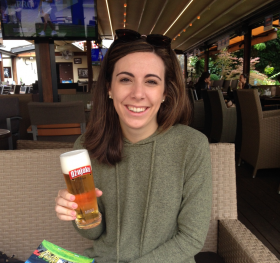 Margo is the daughter of Bill and Holly (Croce) Cochran and the granddaughter of John and Rose (Corak) Croce. She traces her family roots to the Lika region of Croatia, which she had the opportunity to visit last year. Margo was a member of the Seattle Junior Tamburitzans during high school, and later danced with the Vela Luka Croatian Dance Ensemble. She has attended many CFU Festivals and Tamburitza extravaganzas around the country with family and friends, and can regularly be found on the dance floor while a kolo is playing. In addition to being a part of the Croatian community, Margo is a proud Italian American, and serves as the treasurer of the Sons of Italy Seattle Fedele Lodge. Her family owns and operates local wholesale food distributor Pacific Food Importers and its retail outlet, Big John's PFI in Sodo....
2016: Max Vukas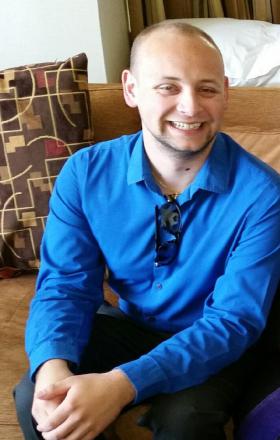 Maxwell Ivan Vukas started dancing and playing the bass with the Seattle Junior Tamburitzans at nine years old. He was enamored by the classic folk music of Croatia and he was always an enthusiast when it came to singing. With the gentle persuasion that only Joanne Abdo can muster, Max danced his way through nine years with the group. Today, he looks forward to sharing the dance floor with the alum from his time in the group and easily recalls all of the lyrics. He and his family have traveled many times to Croatia. He is still in contact with the boys he met on Premuda during that first visit, fifteen years ago. He embraces his cultural heritage and proudly dons a tattoo on his chest of the three lions signifying the region of his family heritage, Dalmatia....
2015: Julie O'Brien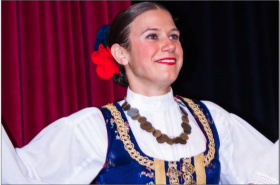 When I was a kid, at Seattle Junior Tamburitzan performances, Johnny Morovich would go down the line introducing all the many –ich last names and when he got to me, an O'Brien, I wanted to be an –ich too. I went home many times and asked my mom to change my last name to her maiden name of Ruljancich. Of course it never happened, but I think it says a lot about how I have felt about my heritage and about where we are in American society, when a kid wants to go from a socially common last name to a unique, and not to mention hard to pronounce, "ethnic" name....
2015: Matt Medalia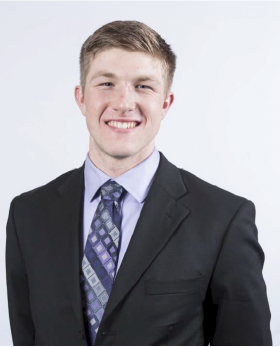 Matt is the son of Steve and Janet Medalia and the grandson of Steve and Mary Jane (Belanich) Medalia. He traces his family roots to the islands of Dugi Otok and Ilovik At the age of 4 he joined the Seattle Junior Tamburitzans, and continued with the group for 11 years. He was fortunate to take two performing tours with the Seattle Jr. Tamburitizans to Croatia, visiting the islands of his great grandparents along the way. He participated in many sports while he was younger, such as soccer, basketball, football, and swimming. At the age of 15, he began rowing at Green Lake, and his love of the sport began. In the fall of 2012, he was elected team captain of Green Lake Crew....
2014: Paul Jovanovich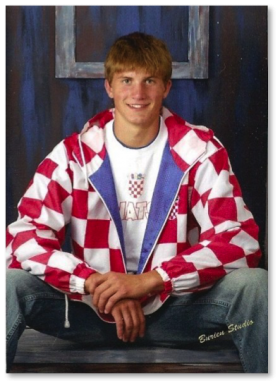 Paul Jovanovich is the son of George and Mary Kay and brother to Nick and Katie. He is the grandson of John and Joanne Jovanovich and Steve and Mary Jane Medalia. He traces his family roots to the islands of Dugi Otok and Ilovik and mountainous town of Mrkopalj in the Gorski Kotar region of Croatia. Born July 16, 1990, he attended St. Anthony's Grade School. He graduated from John F. Kennedy Catholic High School. At Kennedy he was elected Student Body President and participated in several mission trips to Tijuana to build homes with his church youth group....
2013: Katherine & Joe Joyce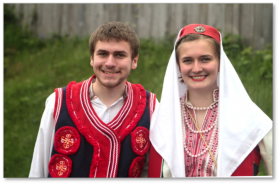 Twins Katherine & Joe Joyce are graduating seniors from the Seattle Junior Tamburitzans this year. They trace their Krilich family roots to Baćina in the Dalmatian region of Croatia, about halfway between Split and Dubrovnik. Their great grandfather Anton Krilich immigrated to the US in 1918 and their great grandma Anna Katich Krilich came in 1928. They eventually settled in Ruston, a suburb of Tacoma, because it had a large Croatian community. Eighty-five years later the Krilich descendants still practice many Croatian traditions, including cooking favorite Croatian meals. Sarma is one of their absolute favorite Croatian dishes! When they were growing up, they thought that the way they ate was how everyone ate!...