2015: Alma Franulović Plancich
By Beverly Prkacin Read
The tapestry of Alma Franulović Plancich's life and accomplishments are interwoven with the threads of connectivity and the heartbeats of people living in and building community.
Alma's earliest recollection was at the age of 2 ½ years remembering her family's forced evacuation to a little stone house in an olive grove when the Nazis were bombing the harbor of their town, Vela Luka, Korcula, Croatia. Six years later her family arrived in Anacortes after 14 refugee camps, 4 countries and languages, travelling in cattle cars and grateful to the Catholic Church and the nuns for opening their hearts including refuge in the Dominican Republic and Caracas, Venezuela. Her grandmother in Anacortes with the aid of a young attorney, Henry Jackson (later U. S. Senator Jackson) worked tirelessly to complete immigration paperwork. Political asylum was granted. Their story is chronicled in "ABC Notebook – The Children of Ellis Island" (1986).
Plancich speaks lovingly of her grandmother, mother and father for their strength enduring the struggles and sacrifices and for their pride and dignity
Cultural preservation and presentation have been a major part of Alma's life. "Ethnicity is what you are born with – culture is what you learn through life's experiences". Alma looks to the similarities of other cultures instead of the differences and has no problem with communication as she establishes trust, respect and genuine sense of caring. Plancich developed leadership skills bolstered by creativity and talent to become a cultural leader, fundamental in establishing the Vela Luka Croatian Dance Ensemble & Ruze Dalmatinke, travelling throughout the United States, Croatia and recently performing at Kennedy Center and Library of Congress in Washington, DC.
Alma's extraordinary sense of humor and relaxed way of bringing diverse people together to plan and make decisions has helped encourage all ethnic communities of the Pacific Northwest to maintain and celebrate their cultural heritage. Plancich remembers her own journey and how her father taught them to dance, mother and grandmother taught them the beautiful songs as they did their work including designing and sewing costumes, embroidery, crocheting, lace work, cooking and baking. The activities – their culture - kept the family together and it still does as traditions are passed generation to generation.
In 1991 when the Balkan War began Plancich's home became a hub with Croatians concerned about their homeland's struggle for freedom and democracy. They took on the activist role and formed the Croatian American Alliance for Democracy setting up rallies, press conferences, meetings with Congressman John Miller, making buttons to distribute, creating fundraisers to bring awareness to the war and destruction in Croatia. Plancich has contributed through her service on boards and community involvement to produce and organize multicultural festivals throughout the Pacific Northwest including Cultural Crossroads, Winter Worldfest, July 4th Naturalization Ceremony at Seattle Center. Plancich was CroatiaFest's coordinator for the first six years and had the opportunity to share her Croatian heritage at Seattle Center, including performances by the Dubrovnik Symphony Orchestra partnering with the Sno-King Community Choir and Bravo! Vancouver, Wa. Chorale; Kumpanija Sword Dancers and Klapa Vela Luka courtesy of Anacortes Sister City Committee.
CroatiaFest thanks Plancich for her contributions to our culture and setting an example of creating cultural harmony in our community.
1975 to present Vela Luka Croatian Dance Ensemble & Ruze Dalmatinke co-founder and performer; 1996 to present involved with Seattle Center Festal; 1995-2014 Executive Director of Ethnic Heritage Council, past president and board member; 2006 Spirit of Liberty Award; 2011 U. S. Department of Homeland Security – U.S. Citizenship and Immigration Services Recognition as Outstanding American by Choice; 2009 WSAC Folk Arts Fellowship; 2011 Women of Valor Award presented by Senator Maria Cantwell; 2003-2009 CroatiaFest Coordinator; 2003 The Daughters of American Revolution (DAR) Americanism Award; 1998 Nordstrom Community Service Award – A Salute to Cultural Diversity honoring those who selflessly work toward cultural harmony in our community; 1998 Governor's Heritage Award; 1991 Washington State Evergreen Society Award; 1991 Croatian American Alliance for Democracy founder & activist; 1979 PTSA Golden Acorn Award, Chair Cultural Enrichment Program, Shoreline School District; President of St. Mark's Church Council.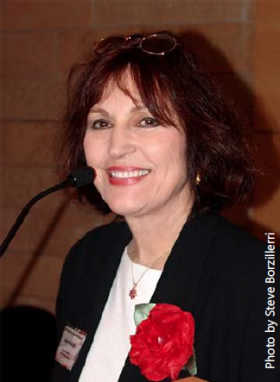 Index
Want to nominate somebody for this year's Outstanding Croatian Award?
Nomination forms can be downloaded here.