2022 Marija Mataja
The recipient of the 2022 Outstanding Croatian Person of the Year is Marija Mataja. Marija's heritage goes back to the community of Mrkopalj in the Gorski Kotar region of Croatia. Prior to the family emigrating in 1964 her father, Lovre Mataja, came to America, found work and purchased a house for his family. Just imagine, Marija, a small child of eight years coming to America with her mother, Barica Crnić, two sisters and two brothers in 1964 whose memory of travel is an airport full of people, none of whom she knew. It was all very big and very exciting.
The family first settled in Burien then eventually in the Beacon Hill neighborhood of Seattle. She was enrolled in the Croatian Fraternal Union(CFU) Seattle Lodge 439 and soon became active in the Seattle Croatian community. The Seattle Junior Tamburitzans (SJTs) became her passion when her nieces and nephews joined the group. She vigorously supported them with help in fundraising for their trips, constructing new costumes with seamstress, Kathy Tarabochia, assisting with their performances both locally and at Croatian Fraternal Union Junior Federation Festivals in Toronto and Zagreb. She was with them for 2 decades and was their Manager for three years. Her favorite trip was to Croatia where the group traveled to the beautiful Dalmatian coast. The highlight for her was Gorski Kotar and Karlovac County where many of the Tammies families originated. During that visit she and her sisters treated the group to a lunch in Mrkopalj that was attended by some of the locals as well as visiting family from Vancouver, BC and Germany. A local group played music and everyone joined in song, which fulfilled Marija's wish to participate in and enjoy the culture through music, singing and food.
A particular passion of Marija's is cooking, especially baking Croatian pastries. For several years Marija and her sister Antonija Stipetić baked elegant Croatian pastries for the CroatiaFest Donor's Brunch, which hosts the Ambassador of Croatia, his wife and the Honorary Counsel, Frank Brozovich. She is also known for contributing her pastries at the annual CFU Lodge 439 Picnic, Kavana, Croatian weddings and events held at the Slavonian Hall including Konoba, the annual Daffodil Festival and the 120th Anniversary Celebration of the Slavonian American Benevolent Society.
Marija joined the Slavonian American Benevolent Society (SABS) in Tacoma in 2018. SABS was formed by Croatian immigrants in 1901 as a gathering place for sharing music, dance, plays, food, weddings and family celebrations. There was also an aspect to the SABS that provided support for families during tough times. When Marija completed her application for SABS she wrote, "As a member I will work to preserve and promote the traditions and heritage of the Croatian people. To encourage the use and knowledge of the Croatian language. To contribute to the United Stated as a free people."
Marija quickly became a leader at the hall volunteering tirelessly to make improvements at the Hall and support cultural events. She now serves as Vice-President of the SABS. She, along with Tim and Dominic Jovanovich created the "Sunday Music Nights" which is held at the Hall once a month. This is an opportunity for those who know how to play Croatian music to come together to practice while other attendees sing along. To top off the event, Marija prepares and/or coordinates a light Croatian dinner for the attendees and musicians. In addition, Marija brings her leadership to the SABS by contributing to the monthly Novosti newsletter, assisting the reproduction of the SABS Cookbook and producing a commemorative calendar for the 120 year celebration.
Most recently, she joined the newly formed Historic Slavonian Hall Foundation as a board member. The Foundation is dedicated to preserving the Slavonian Hall building constructed in 1906 so that future generations will have a place to go where they can celebrate being Croatian.
Clearly Marija is an outstanding Croatian who embodies the best of being Croatian in America and who is dedicated to the preservation and continued advancement of the Croatian culture in Washington State.
Priscilla Lisicich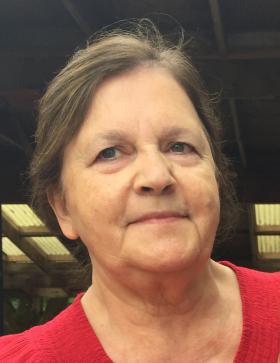 Index
Want to nominate somebody for this year's Outstanding Croatian Award?
Nomination forms can be downloaded here.