Breskvice
Peach Cookies
BRESKVE
3 cubes butter 3 C sugar
1 Tbsp vanilla rind of 1 lemon
2 tsp baking powder 2 Tbsp rum or brandy
2 tsp baking soda dash of salt
App 7 cups flour 4 eggs
Strawberry jam Hershey's cocoa
More sugar and more sugar
Mix butter and 3 C sugar, add baking powder, baking soda and eggs. Mix thoroughly, cover with a clean cloth and let sit for 2 hours. Add vanilla, salt, lemon rind. Start adding flour a cup at a time. Towards the end I put it on a board and knead in the rest of the flour. Preheat oven to 350. Form dough into small balls and bake on an ungreased cookie sheet for 18-20 minutes. They should be golden but not brown. Cool about 5 minutes. Using a paring knife dig out the bottom of each cookie, saving the crumbs. Don't worry if you break some , and if you don't break any your will need to add about 6 cookies to the crumbs. Put the cookie crumbs in a food processor and pulsate until ground. Add rum, about ½ c jam, 3 heaping soup spoons of cocoa and ¼ c sugar. Mix. Your filling should be the consistency of jam, spreadable but not runny.
Fill each cookie half with the spread and put 2 cookies together to form a ball. They should stick together easily.
Decorating: fill 3 cups or glasses with water, add food coloring to each – yellow, red and green. Make it as dark as you like. Dip a third of each cookie into each of the colors and set on paper towels for about 5 minutes then roll each in sugar and place on a cookie sheet to dry. Don't let them touch. The next day turn the cookies over so they dry evenly. After 2 days they should be ok to eat or freeze.
Enjoy – Marija Mataja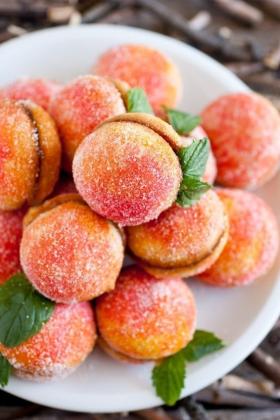 Index
Have a good recipe? Why not share it?
Send your recipe to info@croatiafest.org.