PAŠORATE
Martinis Family Recipe
1 egg, well beaten
1 cup milk
2 tbsp sugar
1 tsp anise
1 tsp whiskey
1 very ripe banana smashed
2 cups sifted flour
1 tbsp baking powder
1 tsp salt
¾ tsp cinnamon
½ tsp nutmeg
1 cup raisins, soaked and drained if necessary
Zest from one orange and one lemon
2 small apples coarsely grated
1 cup walnuts, coarsely chopped
Vegetable oil for frying
In a large frying pan or deep fryer, heat oil to 350 – 375 degrees.
In a large bowl, add milk, sugar, anise, whiskey and egg and mix well. Add mashed banana and mix until fairly smooth. Sift together flour, baking powder, salt, cinnamon, nutmeg. Add dry ingredients to the milk mixture, mix until fairly smooth. Stir in raisins, zest of lemon and orange, grated apples and nuts.
Drop by rounded teaspoonful into hot oil. Fry until light brown. Drain in paper towel line colander and then shake in paper bag filled with granulated sugar. Best eaten the same day.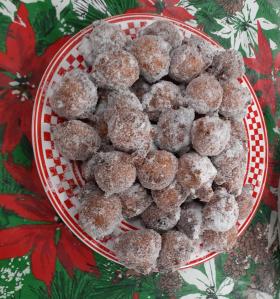 Index
Have a good recipe? Why not share it?
Send your recipe to info@croatiafest.org.