Tuna/Clam Pasta 
By Venko Lisica
Olive oil
1 large onion (chopped)
1 16 oz can tomatoes
1 8 oz can tomato sauce
1-2 cans tuna (broken up)
1-2 cans minced clams
salt & pepper
fresh parsley
Sautee chopped onion in olive oil. When brown, add tomatoes and tomato sauce. Sautee for about 10 minutes.
Add tuna, clams, salt & pepper and parsley. Cook for about 20 minutes.
In the meantime cook pasta Drain & mix together after each is done.
Enjoy!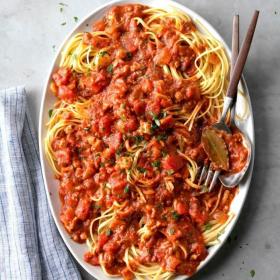 Index
Have a good recipe? Why not share it?
Send your recipe to info@croatiafest.org.