Riži Biži Rižoto (Peas and Rice Risotto)
Josephine (Pina) Mirkovich Presented by her daughter Cathryn Morovich
2 slices of bacon diced
1 medium yellow onion diced
1 cup of frozen peas (fresh when in season)
1 cup Arborio rice
2-3 cups hot chicken stock
Salt and Pepper to taste
Parmesan Cheese (optional)
Sauté diced bacon until crisp then add diced onion and sauté until onion is soft and translucent. Add rice and stir until rice is toasted and is well coated with oil. Stir in peas. Add hot chicken stock, one ladle at a time to the rice. When the rice has absorbed the liquid, add another ladle of the hot stock. Repeat, stirring frequently until the rice is done: approximately 20 minutes. The mixture should be a creamy, moist texture. Sprinkle with Parmesan cheese to taste.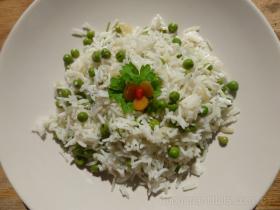 Index
Have a good recipe? Why not share it?
Send your recipe to info@croatiafest.org.