PALAČINKE
Alenka Dunatov & Neva Dominis
4 eggs beaten
½ teas salt
1 teas vanilla extract or lemon extract (your choice)
1 cup all-purpose flour
1 cup milk (more if needed for a batter like consistency)
Melted butter for frying
Beat eggs, add salt, flavoring and flour. Add milk and beat until smooth. Heat an 8-inch nonstick crepe pan or skillet. Add 1 teaspoon of melted butter. Pour a ladle full of batter in the pan, swirl and tilt until batter completely covers the pan. Fry about 2 to 3 minutes or until bottom is lightly browned. Flip over and brown the second side. Remove to a platter. Continue in this manner, adding butter as necessary. Stack crepes one on top of another on the platter.
Spread each palačinke with jam or nut spread. Either fold or roll up, sprinkle with powdered sugar and serve warm or at room temperature.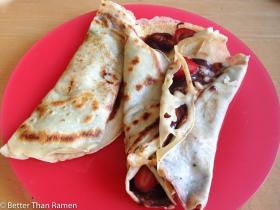 Index
Have a good recipe? Why not share it?
Send your recipe to info@croatiafest.org.