POL MJECES
Half Moom Cookies
Margaret Barhanovich's Recipe for Pol Mjeces (Half-Moons)
Ingredients:
1 cup shortening (half shortening and half butter)
1 cup sugar
2 cups cake flour
2 tsp baking powder
¼ tsp cream of tartar
pinch of salt (¼ tsp)
1 tsp rum
1 grated lemon peel
6-7 Tbsp milk
4 eggs, separated
2 Tbsp sugar mixed with 2 Tbsp finely chopped walnuts.
Process:
1. Cream shortening and sugar well.
2. Add egg yolks one at a time.
3. Add lemon peel and flavoring.
4. Beat egg whites together until stiff. Add cream of tartar to egg whites.
5. Sift flour, baking powder, and salt. Add it to the shortening mixture with the milk.
6. Then add the beaten egg whites.
7. Put in oblong pan and sprinkle top with sugar/flour mixture.
8. Bake at 325 degrees for 35 minutes.
9. Cut into half moon shapes when cool.
Notes:
1. Margaret Barhanovich often made this recipe when I was a child (over 60 years ago).
2. She would have used Crisco as the shortening (as did most cooks of that time).
3. I use vanilla instead of rum.
4. I have always used cake flour, though I am not sure it is absolutely necessary. I sift the dry
ingredients because I have an old sifter, but you can also just mix them in a bowl with a wire whisk.
5. I think it is better to add the cream of tarter to the egg whites before beating.
6. I use a 9 x 13 inch pan and line it with waxed paper.
7. These are technically not half moons but crescents. Margaret used a drinking glass to cut them.
Cut the first crescent at the bottom of the cake (it will have a flat bottom), then move the glass up
about an inch and a half and cut a crescent shape. Continue to move the glass up to cut more
crescents. Only cut what you need. The uncut cake will keep for several days covered at room
temperature.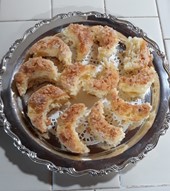 Index
Have a good recipe? Why not share it?
Send your recipe to info@croatiafest.org.