Pužici  (Snail Shaped Cookie)
Ljubica Dragin
Dough:
1 ¾ sticks butter, softened
1 package yeast
1 Tablespoon sugar
1 cup milk
Preheat oven to 350 ˚ and grease cookie sheets. Mix flour and butter as for pie crust. Mix yeast and sugar together thoroughly, then add to flour mixture. Warm the milk to lukewarm then add to dry ingredients, mix to make a soft dough. Turn out on floured surface, lightly knead and divide into three parts. Roll out each part into a thin rectangle. Spread filling on the dough and roll tightly, jelly roll fashion. Cut each roll into ¼ inch slices. Place each slice face side up on cookie sheet and bake 20 – 25 minutes.
Filling:
4 egg whites
2 ½ cups powdered sugar
1 oz grated unsweetened chocolate
3 cups ground walnuts
6 tsp rum
1 grated lemon rind
Beat egg whites until soft peaks form. Add powdered sugar and beat, add lemon rind, chocolate, walnuts and rum. Combine thoroughly. Divide filling into three parts. Spread on to rolled out dough.
Dust baked cookies with powdered sugar.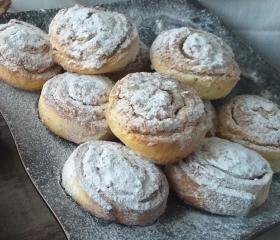 Index
Have a good recipe? Why not share it?
Send your recipe to info@croatiafest.org.