POGAĆA DALMATIAN EASTER BREAD
Ane Morovich, presented by daughter-in-lawCathryn Morovich
4 Eggs
1 Cube Butter
1 Cup Milk
1 Orange juice and rind
½ Lemon, juice and rind
1 ½ Cups Sugar
2 Packages of dry yeast
1 Teas Salt
2 Teas Vanilla
½ Bottle of Anise
5-7 cups of flour (or enough to make a soft dough)
Heat milk to almost boiling, remove from stove, add butter, sugar, salt, vanilla and anise. Let cool.
Dissolve yeast in ¼ cup warm water (not to exceed 110 ˚ Let proof.
Beat eggs, add yeast, fruit juice and rind and cooled milk mixture. Add flour a cup at a time to form a soft dough. Turn dough on to a floured board and knead until smooth and silky, approximately 4-5 minutes.
Place dough in a greased bowl. Cover bowl with plastic wrap, place a towel over bowl and let raise in a warm place away from drafts. When dough has doubled in bulk, punch down. Turn onto floured surface cut into three equal pieces. Form pieces into round loaves and place in buttered 8" round cake pans. Cover with towel and let rise until double in bulk. Brush with egg wash, cut cross on the top. Bake 350° oven for 35-40 minutes. Bread should sound hollow when tapped.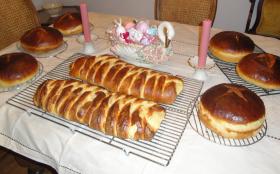 Index
Have a good recipe? Why not share it?
Send your recipe to info@croatiafest.org.