Biskotini
Alenka Dunatov
3 cups all purpose flour
1/2 teaspoon baking powder
1/4 teaspoon baking soda
1 cube unsalted butter
1 cup sugar
2 whole eggs and 1 egg yolk (save the white )
Rind of one lemon
1 cup silvered almonds or walnuts
Slightly beaten egg white
Sanding sugar
Pre heat oven to 350º F. Line cookie sheet with parchment paper-set aside.
Mix flour, baking soda and baking powder-set aside. Cream butter and sugar, add eggs one at a time, mix well. Add lemon zest , dry ingredients and nuts. Mix well.
Divide dough in half, form into two logs about 10 inches long and 3 inches wide. Brush each log with slightly beaten egg white. Sprinkle with sugar. Bake 25 minutes . Remove and place on cooling rack for 15 minutes.
Reduce oven temperature to 290º. Transfer logs to cutting board-using a serrated knife, cut each log diagonally into 1 inch thick slices. Place slices cut side down on cookie sheet, bake 10—15 minutes or until crisp and golden brown. Transfer to wire rack to cool.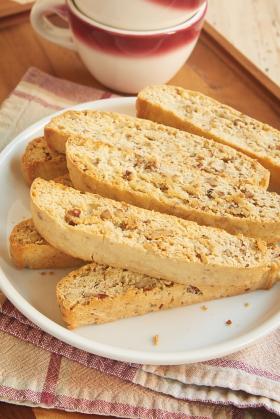 Index
Have a good recipe? Why not share it?
Send your recipe to info@croatiafest.org.