PUINA  (Croatian Style Ricota Cheese)
Neva Dominis
½ gal of whole milk ( make sure that it is NOT ultra pasturized) Lucern (Safeway) brand is best
1 cup heavy whipping cream
1 cup whole milk plain yogart
Pinch of salt
Mix all ingredients together in a heavy sauce pan. Remove one cup liquid to use later. Cover and cook over low heat until is comes to a simmer. DO NOT BOIL. Simmer for approximately 5 minutes . You will see the curds come slowly to the top. In the mean time, place a piece of cheese cloth over a large bowl or colander. With a slotted spoon, skim the curds and place them in the cheese cloth and let drip for 1 hour at room temporture . Remove from cheese cloth and place on a plate. Refrigerate overnight.
To serve, spread cheese on sliced toasted baggets or crackers topped with fig jam.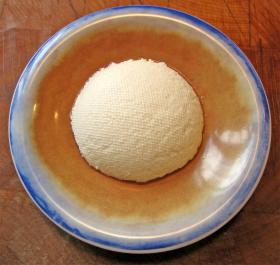 Index
Have a good recipe? Why not share it?
Send your recipe to info@croatiafest.org.