Bakalar
Cathryn Morovich
Ingredients
1 box of dried salted cod (Place order from Metropolitan Market or your favorite fish monger)
2 large or 3 small Yukon Gold potatoes cut into chunks
¼ cup Olive Oil (more if needed)
¼ cup Chopped Parsley
3- 4 cloves Minced Fresh Garlic
Pepper to taste. Pinch of Salt if necessary (Usually salt is not needed.)
Day before serving: put salted cod in a large glass bowl or stainless steel bowl or pot, cover with cold water. Soak overnight. The next day, drain water, fill bowl again to cover cod. Do this two more times (three in all). Approximately an hour (or more) before serving, put cod and potatoes in fresh cold water in a deep pot and bring to a boil. Boil cod and potatoes over medium heat. When the potatoes are done, the fish should also be done. Drain and dress with parsley, garlic, pepper and olive oil. (pinch of salt if necessary, taste before adding). Mix it with a wooden spoon, mashing the potatoes and fish together. The consistency should look like mashed potatoes.
Serve with crusty Italian or French bread.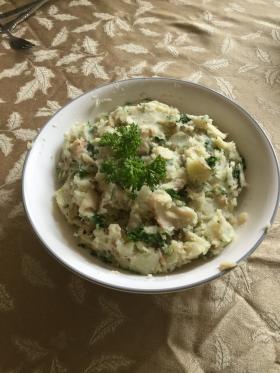 Index
Have a good recipe? Why not share it?
Send your recipe to info@croatiafest.org.