MOTHER VINKA'S RAFIOLI
Helen Lisicich-Kokich
FILLING:
1 LB. Almonds 1 cup sugar
1 lb. Raisins 1 tsp. vanilla
1 box dates (40) 1 ½ ts/ cinnamon
Juice of 4 oranges 1 small glass of dandelion or port wine
Clean almonds and put them in boiling water until skin peels off. Put the almonds on a cookie sheet and roast them at 300 degrees until they are a light tan color (approximately 15 – 20 minutes). Mix around once in a while. When they are done remove from oven and let them cool.
Grind the almonds into small pieces. Add raisins and grind and then dates and grind. Add the orange juice to the mixture.
Put 1 glass of port wine or dandelion wine into the mixture, add the sugar, cinnamon and vanilla. Mix well and cover with a cloth. Let stay at least 4 days in the refrigerator. Mix once in a while.
DOUGH:
1 cup sugar 3 ½ cup flour (plus if needed)
1 cup shortening 2 tsp. baking powder
½ cup butter 2 tsp. anise
2 eggs 1 tsp. vanilla
1 cup milk pinch of salt
Blend sugar, shortening, butter together. Add eggs and milk. Mix well. Add anise, vanilla and salt.
Sift flour and baking power together. Add to mixture. Make the dough soft. (you can store in refrigerator overnight for easier handling).
Roll a section of the dough and cut with round cookie cutter. Put 1 tsp. of filling mixture in each piece of dough and fold over. Press with fork along edge. Place on cookie sheet and bake at 350 degrees for 12 – 15 minutes.
Makes about 90 rafioli.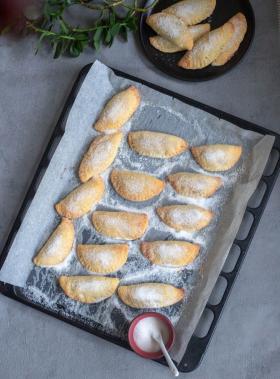 Index
Have a good recipe? Why not share it?
Send your recipe to info@croatiafest.org.