Komiska Pogaca
Kalina Lisica & Elza Hrboka
Start by making bread dough:
Dough
2 tbsp. active dry yeast
2 cups warm water (110 to 115 degrees)
2 tsp. salt
1 tsp. sugar
4 1/2 to 5 cups bread flour
1 tsp. cornmeal
In a large bowl, dissolve yeast in warm water. Add the salt, sugar and 2 cups flour. Beat until smooth. Stir in enough remaining flour to form a soft dough.
Turn onto a floured surface; knead until smooth and elastic, about 6-8 minutes. Place in a greased bowl, turning once to grease the top. Cover and let rise in a warm place until doubled, about 1 hour.
In the mean time make the sauce.
Sauce
Olive oil
2 onions (thinly sliced)
5-6 large tomatoes (chopped)
salt & pepper
Sauté onions in olive oil until they start to brown. Add chopped tomatoes, add salt & pepper to taste and sauté on medium to high heat for about 15 minutes. Turn heat down to medium and continue cooking for 30-40 minutes.
When the dough has risen, knead it and divide in two sections, one a little bit bigger than the other.
Grease large baking pan (9x13 or larger). You can sprinkle a little corn meal on it.
Roll out the larger dough first as this will go on the bottom of your pan. Make it large enough to cover the bottom and go over the sides of your pan. It should be thin, but not too thin. Carefully place the dough in the pan and shape it to the pan.
Spread the sauce evenly on the dough. Add 1 small can of anchovies. Drain and break the anchovies in small pieces and spread evenly on top of your sauce. About inch or two apart until you have it all over.
Spread fresh chopped parsley on top of the sauce, and sprinkle some olive oil to finish.
Roll out the top dough. This one should be a little smaller.
Cover the sauce with dough. Flip the edges of bottom dough over the top and seal the edges. Poke dough lightly with a fork.
Bake in preheated oven at 350 degrees for about 45 minutes to 1 hour.
Cool a little before serving. Enjoy!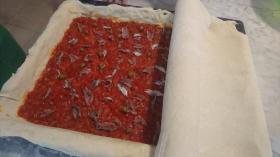 Index
Have a good recipe? Why not share it?
Send your recipe to info@croatiafest.org.