VODENJACI
By Alenka Dunatov
4 ½ cups flour
2 cubes cold butter
Zest of two lemons
4 eggs
3 tables of dry yeast
1 cup warm milk
1 tablespoon sugar
Pinch of salt
Coating:
3 cups sugar
3 cups ground walnuts
Directions:
Proof yeast in warm milk with 1 tablespoon of sugar. In a large bowl cut cold butter into flour as for pie dough. Add salt, lemon zest to flour. Slightly beat eggs with a fork and pour into milk and yeast mixture. Make a hole in the flour and pour in the wet ingredients. Mix well to form a soft dough. Transfer dough to floured board and kneed for a 2-3 minutes. Place dough in a clean pillow case and then place the pillow case in a bowl of warm tepid water to raise. The dough and pillow case should be completely submerged.
When the dough is doubled in bulk, remove from water and pillowcase. Place dough on board. Pinch a small amount of dough, flat it slightly and roll in sugar and walnut mixture and then form in a crescent shape.
Bake 350˚ for 15 – 20 minutes until golden brown.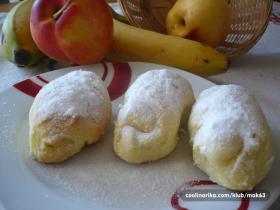 Index
Have a good recipe? Why not share it?
Send your recipe to info@croatiafest.org.