SPAETZLE
By Alenka Dunatov & Neva Dominis
SPAETZLE
By Alenka Dunatov & Neva Dominis
3 Eggs
3 cups flour
1 cup milk
½ tsp salt
Beat eggs until frothy, combine with milk, mix in other ingredients a little at a time. Use Spaetzle make or big hole cheese grater to grate dough into salted boiling water or soup broth. Cook 5 minutes. Scoop out of water with slotted spoon. Drain excess water, serve with butter or gravy or as a substitute for pasta in soups.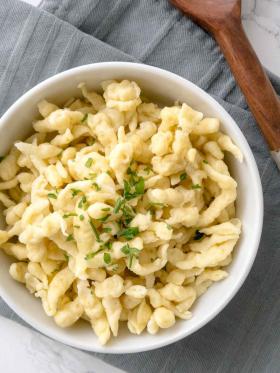 Index
Have a good recipe? Why not share it?
Send your recipe to info@croatiafest.org.