BRUDET SA KUMPIRIMA
Venko Lisica
1 lb fish (white fish or salmon)cut into 4 – 6 pieces
1 medium onion sliced
2 large or 3 small potatoes, sliced
1 small can of tomato sauce
3 tablespoons red wine vinegar
Olive Oil
Salt & pepper to taste
Divide in half the fish, onion, and potatoes. In a Dutch oven or large sauce pan, pour 2-3 tablespoons of olive oil to cover the bottom of the pan. Layer the first half of the first three ingredients, starting with the sliced onion, sliced potatoes, and ½ of fish. Layer the remaining onion, potato and fish. Season with salt and pepper to taste. Pour a small can of tomato sauce, red wine vinegar, and 2 tablespoons of olive oil over the fish. Place on top of the stove on high heat until the mixture comes to a boil. Turn heat down to medium and cook for 20 – 30 minutes.
Serve with crusty French bread.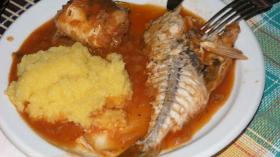 Index
Have a good recipe? Why not share it?
Send your recipe to info@croatiafest.org.