SQUID SALAD
John Sarich
1 1/2 lb cleaned squid
2 tablespoons fresh lemon juice
1 tablespoon red-wine vinegar
1/3 cup extra virgin olive oil
3 large garlic clove, minced
1/2 teaspoon salt
1/4 teaspoon black pepper
1 small red onion, halved lengthwise then thinly sliced crosswise (1 cup)
1/3 cup pitted kalamata olives, halved lengthwise
2 cups celery ribs, cut into 1/4 inch thick slices
1 cup loosely packed fresh flat parsley leaves
1 Red pepper julienne Thin

Preparation:
- Rinse squid under cold running water, lightly pat dry between paper towels. Halve tentacles lengthwise and cut bodies (including flats, if attached) crosswise into 1/3 inch wide-rings.

- Cook Squid in 5-6 quart pot of boiling salted water, uncovered, until just opaque, 40-60 seconds. Drain in a colander and immediately transfer to a bowl of ice and cold water to stop cooking. When squid is cool, drain and pat dry.

- Wisk together lemon juice, vinegar, oil, garlic, salt and pepper in a small bowl, then stir in onion and let stand 5 min.

- Meanwhile combine squid, olives, tomatoes, celery and parsley in a large bowl. Toss with dressing and season with salt and pepper. Let stand at least 15 minutes to allow flavors to develop.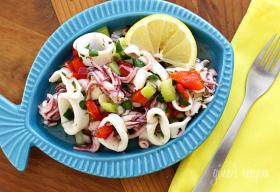 Index
Have a good recipe? Why not share it?
Send your recipe to info@croatiafest.org.